Why we invested in Moxey
Mar 23, 2021
by Aimee Supp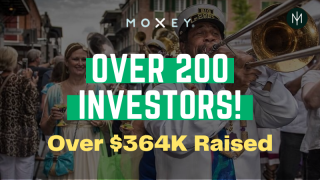 Today, we are dancing in the streets like it is Mardi Gras with this update!
In the 10 days since we have launched our Wefunder campaign, we have over 200 investors who have invested over $364K!
That is a lot to celebrate! Especially when, deep down, we know that your investment allows us the opportunity to serve more entrepreneurs and business owners in the communities that we currently serve and the ones that we have our sights set on.
Here are some of the reasons our investors said they backed us!
Phyllis Greenberg
I've been a Moxey member for 4 or 5 years now. I see the value of Moxey dollars to my business and its continued growth as well as to the economy. When I'm about to spend money I always investigate if I can use my Moxey dollars as payment before I resort to using my actual cash.
Mike Calhoun
As a member of the Moxey community for 5 years, I have seen it grow. The time for digital currency has arrived, and this model has a firm backing with the businesses that participate. Bitcoin only has value because of speculation. Moxey has value because it represents the businesses that are members.
Amellie Photography & Video
I have been using Moxey for the last 5 years and Moxey has been a great source of additional business to my companies. The Moxey system has been proven, improved, and streamlined over the years with a huge network of profitable local businesses. This is definitely worth investing in.
Kiara Phillips
I've invested in Moxey, because they've helped bring great exposure, while building strong business relationships for my minority and woman owned small business! I'm grateful to be a part of such a community and to have this opportunity! Thanks Moxey and your phenomenal team!
Scott Long
We've been involved in the barter system for years and the integrity of the Moxey system and the businesses involved, are why this industry has grown the way it has, and why we are pleased to be a part of this investment and confident in a high return.
Christopher Steele
As a long time member of PartnersOne. I know the benefits of trade! and excited to be a small part of the growth of Moxey.
Kathy Himel
Tate
Because I believe in Moxey. I've been working in the Moxey community for 7+ years and I see first hand how we are helping local businesses thrive!
Jonathan Daniel Gilley
I believe in Moxey, and have been helped in many ways by it. My business has grown solely based on it, and I wanted to own a piece of something I know will be amazing in the future.
Johnnie Ann Babineaux
I believe in Trust Acadiana & Moxey as a great way to build and grow your business. A great way to help small businesses.
Tom Schoen
I've gotten to know the founders some and think they and their product offering should be a good investment.
Wayne Rabalais
Chip
, and now
Charlie
are 2 of the most business savvy dudes I know. I want to be a part of any venture they are a part of. 👍🇺🇸😎
Kevin Dupuy
Moxey is a great group. I have watched it grow over the past several years. Moxey helps our company with business expenses and has created many friendships through this organization! Thank you Moxey!
Donna Bonnoitt
I feel like it is going to be an up and coming business opportunity. With only 16 cities, currently there is much room for growth. Barter is going to be a growing segment of the economy in today's world.
Camille Barnes
I've been a member of Crescent City Trade Exchange & PartnersOne for years. I love Moxey, it makes life easier with trading. Moxey is great & I believe it's going to grow.
James Francois
I am a member of Moxey and believe in it's value to the community. I want to help the company to grow.
Stacy Delatte
We love the Moxey system and supporting all our local businesses. It's a win win to invest in our community.
Deborah Todd
I am a long time member of Partners | Moxey and a big believer in
Charlie
,
Chip
and the entire organization!
John K Roberts
III I'm investing in Moxey because I believe in
Charlie Davis
and the leadership team, and their vision to become a billion dollar enterprise. I have a 25+ year history in multi-million-dollar small businesses and a keen sense of what it takes to succeed. Having been involved with Charlie and the leadership team over the last two years I've seen their passion, intelligence and dedication up close, I know they will deliver success for Moxey investors and businesses.
Alicia Allain
We invested because of the experience and the witnessing of the growth. Alicia & John Schneider
Jill Adams
I believe in the Moxey network and it has helped my business grow. I look forward to growing in more ways with Moxey.
Jarrod Broussard
Familiar with the product and willing to risk a tiny portion of my speculative growth portfolio on the adoption mechanics of the future of the moxey exchange to add fiscal value exponentially.
Daniel Norton
We use this platform at Trust Acadiana where I'm a member. Moxey has always been smooth and I see it going places.
Tomara Evans
Looking to support and grow my local community and hopefully make some money while doing it.
Travis Gomez
I see the value in how Moxey has helped grow my business. I want to be a part of the growth of Moxey.
Andy Truxillo
I believe in the product and I think it will be a good investment.
Brad Henry
Because I believe in the Trust Acadiana | Moxey system.
Mark S Lewis
I believe in what you are doing and have faith both in
Charlie
and
John Roberts
.
David Fluker
I'm betting on this team! Solid concept and smart guys!
Johanna Natale
I love the concept and I see future growth potential in this business model!
Troy Jones
I have trade association experience and understand the financial benefit that trade networks provide to small business owners.
Jonathan David Johnson
I love this idea and would love to participate as more than just an investor.
Charlie
always sets the standard on "what's next" in the market and this one is next level exciting.
Lindsay White
Because I believe in
Aimee Supp
and if she is a factor in Moxey's success, I want in.
Jeffrey Metzger
We know
Charlie
and are intrigued by this business and want to support it in such a unique funding way.
Heath Price
Charlie Davis
is the real deal.
Derek Babcock
Because investing in
Charlie Davis
is always a good investment. Brilliant concept and I've watched it grow from the very beginning. I believe this is only the beginning of exponential growth. If I had $100k I would have invested every penny.
Aaron Melendez
Out of an immense amount of respect, trust and gratitude for
Warren Sager
. This doesn't even crack the surface of how much I owe him for all the guidance and mentorship.
Regina Lines
First of all, I am a huge supporter of small businesses and I believe they provide a positive impact not only in our economy but also in our world and how we relate to one another. Second, I have known
Aimee Supp
for over 20 years, and I am constantly inspired by the passion, determination and care she pours into helping local economies and entrepreneurs. I was lucky enough to follow her around Baton Rouge and NOLA as she checked in on her customers and her knowledge, not only about their business, but also them as individuals was aspirational and endearing. The kindness and attention she gave each of them was reflected back to her. I know she wholeheartedly believes in the service Moxey provides and as long as she is involved in a business, you can count me in as well!
Bekka Supp
Nepotism aside, I heartily believe that an investment in Moxey is an investment in small business communities across the US. I want to give those small business owners every opportunity to succeed and have seen what the right kind of advocacy and symbiotic relationship building can do because of my sister,
Aimee Supp
. She already brings a lot of heart to Baton Rouge and New Orleans and I am positively thrilled and anxious to see it grow into markets across America. It's not very often you see women in leadership positions hustle as much as Aimee, but I know she works tirelessly because she wants all small businesses, regardless of location/region, to succeed as much as Moxey does. I hope this helps elevate Moxey's game! Best of luck!
Richard Bentley
I am a cyber security professional with a passion for ease of secure Fintech. I had a good look at Moxey when I interviewed with them about a year ago. They chose to go in a different direction but that didn't change my admiration for what they have done.
Prof. Muhammadou Kah
Great Value Proposition and much needed by Small & Medium Size Businesses. Great team and clarity of vision and mission.
Christopher Onwuka
Very viable project and replicable across continents. I am interested in replicating this model elsewhere outside the US. Win/Win for every party involved.
Blair Sheppard
Please take a look at the chapter on Local First in my book Ten Years to Midnight and you will see why I really like what you are doing.
Mohammad S Haider
Small business is the blood flow of the US economy. Moxey definitely will bring some momentum to the small business community. My wife owns a small business as well. I would like to see Moxey here in CA.
Houmphanh Meuanghane
My family has been small business owners for the past 25 years. I can definitely relate to the challenges that small businesses face in terms of financing and growing customer base. Unfortunately, we did not have such an offering during that time, so we went to our family for financial needs. This option is not available to everyone and we were fortunate to have that. Now that we are able to become small time investors, we want to invest in businesses we believed in and this is one such business that would have greatly benefited us when we started off. Thank you for providing these types of services to those in need. Wish you and your team prosperity.
Timothy Baxter
I'm keen on the concept of alternative means of exchange and by-passing the central banking cartel, as well as keeping our middle class from perishing by supporting smaller local businesses. Moxey seems to check these boxes so I would like to support it.
Andrew J McGee
Moxey means more business and opportunity to take advantage of services you may not have otherwise considered.
Mohammed Zaid
Believe in your mission - looks very sincere and encouraging… living in Oregon and would love to see Moxey here!
Debora Lambert
I see an opportunity to invest in a company that has been successful in what they do and has a great business model. I want to get in on the ground floor while I can.
Anthony Holloway
A very needed service due to the effects of Covid 19. Most small businesses need a helping hand! Knowledgeable founders!
Pereira Pedro Seems like a company with a mission, goal and bright future: want to be part of it.
Kari Nykorchuk
I believe in your company and I'm hoping that you will look into all of the new eBay and e-commerce start ups that have occurred during the pandemic. I'm happy to discuss this further if you would like but I believe it is a huge currently untapped market.
Neel Sus
I believe in the team and the cause
FCS Ventures, LLC
Due to this pandemic, I believe companies like yours will be a great value to small businesses needing help.
Based Ventures
Love market disruptors and the team is solid!
Armando Leduc
I am invested in you guys!
Chris St Pierre
As a small business owner I think this is a great idea.
Kamal Bitmouni
I like the idea!!! Hope it works out!!! Good luck!!!
Richard Ray Chua
Helping small businesses
Darryl Rutledge
Looks like a promising company. Hope to do business with you.
Tyrone Evans
Great idea!!
Mel Leveque
Interested in being on the ground floor of this venture.
Sarah Spizale
I invested because I believe in the company's value at a local level.
Adam Howell
I believe in the power of community.
Nathaniel Ward
We are proud of the business and hope we can help it grow!
Aubrey Keller
I believe Moxey will help small businesses grow.
Lauren Swartley
Supporting local business.
Robin Ziegler
I believe in a barter based system and total dependence on Government money
Kenneth Gilmore
I love being able to support small businesses.
Scott Simnacher
it is too smart for our government to use and do so we the poeple must to something to help ourselves
Rodney Lee Smith
I love investing in startups.
William Buckley Fountain
I like your business/people story and I like your location.
Jarvis Martin
I believe it will become something special. Plus, I love the name.
Barry Dunlap
Seems like a solid and innovative idea!
Demetrius Keller
You guys have been at this for years. I trust that you'll continue. Happy to be aboard.
Damian Kube
I believe that this can be a great tool for small businesses as well as their customers. Great idea, can't wait to see its developments
Dee Ann Davis Melton
Because I believe in this business model and I love my big brother,
Chip
!
Lela Elliott
I believe small businesses will support others if the others support them.
Kevin Brown
This is great. The barter system was used before the current monetary system. Thank you.
Mary Rose Arriola
"If you don't build your dream, someone will hire you to build theirs"..I've always believed in small business owners, was once one! Thank you thinktanks❤️
Sue Supp
On recommendation of Aimee Supp
Thomas Quilty
I am interested in seeing where this will go.
Edwin Anton
I believe in Financial assistance to small business.
Tiffany Christina Tergesen
We should all support local small businesses...
Tim Bollinger
I believe in Aimee Supp!
Brian McDowell
Creating a new monetary system for business owners to supplement traditional cash flows is a very ambitious and aggressive idea...and one I want to be a part of.
Danny Mathis
Looked very interesting. Possibilities for expansion.
THANK YOU again for believing in us!